Oxygen Therapy Resources and Links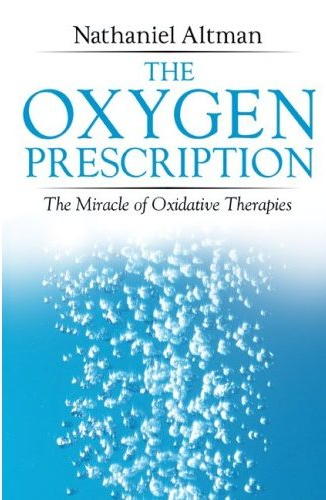 The field of oxidative therapies is an ever-changing one. In the past few years there has been an amazing growth of web sites on the Internet that offer oxygen therapy-related products like ozone generators, food-grade hydrogen peroxide, oxygen supplements, books and periodicals. Here is a short list of these available resources, with our apologies to those who have not been included.
Nathaniel Altman and OxygenPrescription.com have no financial arrangements with any of the following organizations, individuals or companies.
Databases
Oxygenhealingtherapies.com

A website containing information about different aspects of oxygen therapies, including Frank Shallenberger's course schedule and a list of practitioners who have attended his seminars. Note: This site is not affiliated with Nathaniel Altman or the book Oxygen Healing Therapies.
A highly professional website containing information about various aspects of ozone therapy, links to organizations. Includes a map listing locations of ozone practitioners worldwide.
A site from a dentist's office that explains how ozone is used in dental practice.
Created by Dr. Julian Holmes, one of the leading researchers of ozone in dentistry. Contains a listing of ozone practitioners around the world.
Created by a company offering Ozone and Ultraviolet equipment and training, this site provides an extensive range of information about the uses of ozone in veterinary medicine. Includes a directory of practitioners.
Organizations
International Medical Ozone Federation (IMEOF)
Based in Madrid, the objectives of the Federation are:
To actively intervene so that the ozone therapy is regularized positively by the authorities of the countries where the members of the Federation have presence.
To define, to regulate, and to recommend the use of the ozone therapy in concrete pathologies and to regulate the diverse skills of application of the ozone.
To approve medical protocols that serve as reference and guide to all the members.
To establish, support and encourage contacts and collaboration with international federations of similar nature and purpose.
To promote joint actions with other medical federations and particularly with those linked to the ozone therapy, so this is represented and defended properly before the authorities.
To promote and organize meetings, symposiums, workshops, seminars and others of similar nature.
To support the initiatives and guidelines that the International Scientific Committee of Ozonetherapy (ISCO3) develops.
Society of Oxidative and Photonic Medicine (Sopmed)
A new organization that provides training in ozone and photonic therapies to health professionals. Extensive site exploring many aspects of ozone therapy. Sponsored Inaugural Conference in June, 2015.
Medical Ozone Society of the Americas (MOSA)
9123 N Military Trail, Suite 200, Palm Beach Gardens, FL 33410
Founded in 2010, the Medical Ozone Society of the Americas focuses on providing health professionals - especially dentists, medical doctors and veterinary practitioners- with research, seminars and education on the latest developments in ozone therapy. Current projects include the establishment of the not-for-profit Medical Research Institute and a medical journal- Millenium III- available in both English and Spanish.
International Ozone Association
Founded in 1973, the International Ozone Association is a non-profit educational and scientific organization dedicated to the collection and dissemination of information on, and to promote research in, any and all aspects of ozone and related oxygen species technologies. The IOA sponsors seminars and international conferences on medical ozone.
P.O. Box 8761, Scottsdale, AZ 85252 U.S.A.
Tel: (480) 529-3787

European African Asian Australasian Group

40 Av. du Recteur Pineau, 86022 Poitiers CEDEX France

Nippon Islands Group (Japan)
European Cooperation of Medical Ozone Societies

An umbrella organization made up of the Austrian Mutual Interest Association of Ozone/Oxygen Therapists (Interessengemeinschaft der Ozon-Sauerstofftherapeuten), the Swiss Medical Society for Ozone and Oxygen Therapy Methods (Schweizerische Ärztegesellschaft für Ozon- und Sauerstofftherapien), the Italian Society for Medical Ozone Application (IMOS), and the German Medical Society for Ozone Application in Prevention and Therapy (Ärztliche Gesellschaft für Ozonanwendung in Prävention und Therapie). Its goal is to develop and adopt universally accepted protocols for treatment and a European Standard Qualification for practitioners. Member organizations sponsor practitioner training, congresses and seminars.
Asiatic - European Association of Ozone Therapists
Established in 2007, this organization focuses primarily on Russia and Ukraine. It s web site includes a listing of ozone therapists, notices of conferences and trainings, and links to sources of ozone equipment.
P.O. Box 270041, West Allis, Wisconsin 53227

An organization offering strategies related to diet, ozone and other natural therapies for those dealing with HIV and other immune disorders. Publishes occasional newsletters and the Immune Restoration Handbook. They have also assembled a collection of articles about medical ozone taken from medical journals, which is available for purchase.
Manufactures and Distributors
There are literally dozens of companies that manufacture and distribute ozone generators and related equipment. Most can be found on the Internet. Some of these companies include:
North America

Ozone Services
390 Silver Queen Road, Burton, B.C. V0G 1E0 Canada
Tel: (250) 265-4461; Fax: (250) 265-4482

Manufactures and distributes ozone generators, steam cabinets, shower equipment, ozonated oil and supplies for water purification and medical use. Provides high-level training for ozone practitioners through the Ozone Therapy Training Program (OTTP); web site contains articles about ozone and other information.

Ven-Mar Scientific, Inc.
P.O. Box 974, Hempstead, TX 77445
Tel: (979) 826-3863; Fax: (979) 826-3142

Ven-Mar manufactures and distributes ozone generators and related equipment; sponsors educational seminars.
Medozone Technologies LLC
9123 N. Military Trail, Suite 200
Palm Beach Gardens, FL 33410
Tel. (877) 827-8452
Medozone Technologies manufactures and distributes the Omega V, an innovative portable ozone delivery system, primarily to veterinarians.
Longevity Resources
Tel: (877) 543-3398, (250) 654-0092

Manufacturer and distributor of ozone generators, steam cabinets, pool ozonation systems, air and water purifiers.
BiOzone Corporation
11026 East Crestline Circle, Englewood, CO 80111
Tel: (303) 772-2095; Fax: (303) 689-0065

Specializes in industrial, agricultural and industrial ozone generators.
Plasmafire
Tel: (604) 532-9596

Manufactures and distributes ozone generators, steam cabinets and ozone supplies for water purification and medical use.
Care Tech Industries
St. Petersburg, Florida
Tel: (800) 700-3327; (813) 393-3327

Manufactures and distributes Odatus brand air purifiers and air quality sampling kits.
Medizone International, Inc.
Post Office Box 742
Stinson Beach, CA 94970
Tel: (415) 868-0300 - Fax: (415) 868-2344
Medizone is a research and development company engaged in developing its AsepticSure™ System that uses ozone to decontaminate and sterilize hospital surgical suites, emergency rooms, intensive care units, schools and other critical infrastructure. A government variant is being developed for bio-terrorism counter measures.  Research is being conducted at Medizone's laboratories at Innovation Park, Queen's University in Kingston, Ontario, Canada.
Other Countries
Dr. J. Hänsler GmbH
Nordring 8, 76473 Iffezheim, Germany
Tel: (49) 7229 30460; Fax: (49) 7229 304630

Founded by ozone pioneer Dr. Joaquim Hänsler, this is the world's oldest maker of medical ozone generators. Manufactures and distributes Ozonosan generators for medical applications and water purification. Considered the "gold standard" in Europe, Ozonosan is used extensively in scientific research.
Kastner Praxisbedarf GmbH
Berliner Ring 40, 7550 Rastatt, Germany
Tel: (49) 7222 53005; Fax: (49) 7222 8487

Manufactures and distributes Ozomed ozone generators for medical applications and water purification.
Medozons
Ul. B. Panina, 9 - 603089 Nizhni.Novgorod, Russia
Tel/Fax: (7-8312) 167067, 383003

Russia's premier manufacturer of ozone generators and equipment. Sponsors educational programs and web site includes scientific papers and instructional material.
Multiossigen srl
Via Roma 26, 24020 Gorle (Bg) Italy
Tel: (39) 35 299573

Manufacturer and distributor of ozone generators and supplies; offers training programs for practitioners.
Ozone Research Centre (Centro de Investigaciones del Ozono)
Calle 230 No. 1313 esq. Avenida 15, Siboney, Playa,
Apartado Postal 6412, Ciudad de la Habana, Cuba.
Tels: (53) 7 271-2089, 271-0588; Fax: (53) 7 271-0233

In addition to an ambitious program of scientific investigation, the Ozone Research Centre offers training courses for practitioners, sponsors international conferences, manufactures and distributes ozone generators and related equipment, and maintains the International Ozone Therapy Clinic.
Ozonia International
North American Office: 491 Edward H. Ross Drive
Elmwood Park, N.J. 07405
Tel: (201) 794-3100; Fax: (201) 794-3358

Based in France, this manufacturer and distributor of industrial ozone equipment and UV technology has offices in Great Britain, Russia, Switzerland, North America, China, Japan and South Korea.
Publication
Family Health News
1945 N.E. 2nd Avenue, Miami Shores, FL 33138
Phone: (800) 284-6263, (305) 759-9500

Founded in 1989 by John Taggart, FHN is a tabloid newspaper/mail order catalog devoted to oxidative therapies and related products. Articles on oxygen therapies, health and nutrition can be found on the web site.
Videos
Ozone and the Politics of Medicine
Ozone, A Medical Breakthrough?

Geoffrey Rogers / Threshold Films
#141-1857 West 4th Avenue
Vancouver, BC Canada V6J 1M4

Professionally done and provocative documentaries on how government health agencies and traditional medicine view ozone in the treatment of AIDS and other diseases. Available from Family Health News.
Scientific Books On Oxygen Therapies
Velio Bocci, Oxygen-Ozone Therapy: A Critical Evaluation (Kluwer Academic Publishers, 2002). An exhaustive (and breakthrough) treatise on all aspects of ozone therapy written primarily for clinical researchers, physicians and ozone therapists by the world's leading authority on oxidative medicine. Includes protocols and clinical guidance.
Velio Bocci, Ozone: A New Medical Drug (Springer, 2005). A somewhat simplified version of his previous book, better understood by lay readers with a solid scientific background. Includes protocols and clinical guidance.
Renate Viebahn-Hänsler, The Use of Ozone in Medicine, 5th English edition (ODREI-Publshers, 2007). A classic text by one of the world's most respected practitioners. Includes protocols and clinical guidance. New editions are published every few years. Her new Ozon-Handbuch is currently available only in German.
Richard A. Neubauer and Morton Walker, Hyperbaric Oxygen Therapy (Avery Publishing Group, 1998). A comprehensive and definitive book about HBO and how it can be used to treat a wide variety of health conditions
Frank Shallenberger, Principles and Applications of Ozone Therapy: A Practical Guideline for Physicians (CreateSpace Independent Publishing Platform, 2011). Advice about applications and uses of medical ozone by one of the world's leading ozone practitioners.